Sheet Music - Play it again!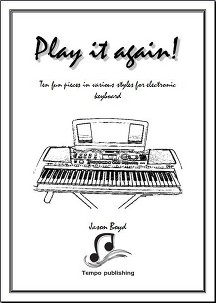 Written by composer Jason Boyd, 'Play it again!' contains 10 fun pieces for electronic keyboard that can be used for solo or group tution.  They have been used successfully by many music services up and down the country.  Selected pieces are also on the ABRSM's music medals repertoire list.
This download contains PowerPoints, a forty page student workbook, teaching notes and activities. Please note: once the order has been made the download link will be sent within 24 hours
Either add to cart to buy on line, or download an order form. Alternatively you can get your school to email / post a purchase order an we will invoice the school direct

Tempo publishing is dedicated to creating high quality resources for a range of subjects.  
Tempo publishing began life selling resources for Music and Music Technology A levels.